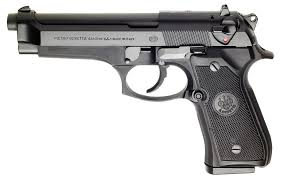 The Beretta 92FS is a series of semi-automatic pistols designed and manufactured by Beretta of Italy. The model 92 was designed in 1972 and production of many variants in different calibers continues today. The United States Armed Forces replaced the Model 1911A1 .45 ACP pistol in 1985 with the military spec Beretta 92F, the M9.
Beretta currently produces the pistol in four different configurations (FS, G, D and DS) and four calibers: 9×19mm Parabellum, .40 S&W, 9×21mm IMI and 7.65mm Luger.
The FS has an enlarged hammer pin that fits into a groove on the underside of the slide. The main purpose is to stop the slide from flying off the frame to the rear if it cracks. This was in response to reported defective slides during U.S. Military testing.[6]
A Beretta 92FS Inox was used in the Winnenden school shooting in 2009, which resulted in 16 deaths and 9 injuries. Following the massacre, the German government passed legislation to improve handgun security.
This is the weapon used by Martin Riggs in the TV series Lethal Weapon.
Community content is available under
CC-BY-SA
unless otherwise noted.