This is a list of characters who were antagonists in the Lethal Weapon Series.
Bold stands for major antagonists.
Gen. Peter McAllister: A rogue U.S Special Forces general who leads a group of mercenaries in Shadow Company heroin sales.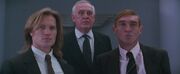 Arjen Rudd: A minister of diplomatic communications and consul of South Africa.
Pieter Vorstedt: Rudd's head of security,

Hans: Rudd's henchman, who responsible for exposing the krugerrands by mistake to the police.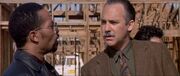 Jack Travis: A former LAPD lieutenant, who leads a group of criminals in the arm trafficking in black market.
Hatchett: Travis' loyal henchman, who prepares the firearms ready to be shipped to the black market.
Tyrone: Travis' number one buyer, who leads a street gangsters and deals the ammunition.
Uncle Benny Chan: A Crime boss for the Triads, in charge of smuggling illegal immigrants from China into the United States.
Wah Sing Ku: A Highest ranked Triad negotiator, trying to get his brother and the Four Fathers out of prison.
Chinese General: An official, who runs a prison in China, where he's holding the Four Fathers captive.
Community content is available under
CC-BY-SA
unless otherwise noted.