This is a list of characters who were antagonists in the Lethal Weapon Series.
Bold stands for major antagonists.
General Peter McAllister: The leader of an ex-CIA/Special Forces organization called Shadow Company.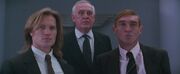 Arjen Rudd: The head of diplomatic communications and consul of South Africa.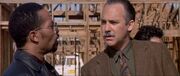 Jack Travis: Former LAPD cop and the one in charge of arms trafficking.
Wah Sing Ku: Highest rank Triad negotiator trying to get his brother and the Four Fathers out of prison.