This is a list of characters who were antagonists in the Lethal Weapon Series.
Bold stands for major antagonists.
Gen. Peter McAllister: A rogue U.S Special Forces general who leads a group of mercenaries in Shadow Company heroin sales.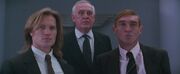 Arjen Rudd: A xenophobic minister of diplomatic communications and consul of South Africa who leads the group of diplomats in the krugerrand drug shipments.
Pieter Vorstedt: Rudd's head of security,

Hans: Rudd's henchman, who responsible for exposing the krugerrands by mistake to the police.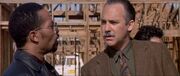 Jack Travis: A former LAPD lieutenant, who leads the group of criminals in the arm trafficking business in the black market.
Hatchett: Travis' loyal henchman, who prepares the firearms ready to be shipped to the black market.
Tyrone: Travis' number one buyer, who leads a street gangsters and make deals with the ammunition.
Uncle Benny Chan: The Crime boss of the Triads in charge of smuggling illegal immigrants from China into the United States.
Wah Sing Ku: A highest ranked Triad negotiator, who leads the group of Triads in the human trafficking and counterfeiting rings while trying to get his brother and the Four Fathers out of prison.
Chinese General: A corrupt military official, who runs a prison in China where he's holding the Four Fathers captive.
Community content is available under
CC-BY-SA
unless otherwise noted.