The Los Angeles Kings are a professional ice hockey team based in Los Angeles, California, United States. They are members of the Pacific Division of the Western Conference of the National Hockey League. The team was founded on February 9, 1966 when Jack Kent Cooke was awarded an NHL expansion franchise for Los Angeles, becoming one of the six teams that began play as part of the 1967 NHL expansion.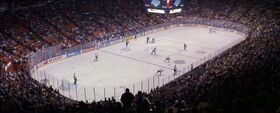 The Los Angeles Kings were playing a game in the Forum against the Toronto Maple Leafs on the night of Jack Travis' attempted arrest. Travis was sitting a few rows above the penalty box when Sergeant Detectives Martin Riggs and Roger Murtaugh along with Leo Getz search the Forum for him. When the Kings score a goal, Riggs uses the opportunity with authority to publicly announce Jack Travis' arrest. Travis escapes from the cops and is tackled onto the ice by Leo, delaying the game. While fighting on the ice, Travis wins by shooting Leo in the arm and escapes, leaving him in shock and Riggs runs on the ice to help him. Murtaugh follows too and they check on him to make sure he is okay. The Kings, Maple Leafs, and the entire Forum give Leo a standing ovation for being alive and well. The game resumes soon after and continues.
The game is set sometime late in the 1991-92 Season (the NHL's 75th anniversary), since the film takes place in 1992.
In the sequence where Travis is tackled by Leo onto the rink, the Kings 1991-92 uniforms no longer bear the official logo and it instead reads LA in a replica of it with numbering outlined in red, while the Maple Leafs uniforms have spades in place of the leaf. This is the most notable error in the film. It is possible the film makers couldn't afford to have actual Kings jerseys be seen on the final film due to trademark and budget constraints, so archived footage from a game was used in its place. In addition, the LA Kings logo does not appear on center ice as it normally would.
During the telecast, Kelly Hrudey (the LA Kings goaltender) asked the officials to get the filming of Lethal Weapon 3 to stop, as the camera lights were a distraction, and Jim Fox and Bob Miller of Prime Ticket acknowledged the stoppage on air.
Community content is available under
CC-BY-SA
unless otherwise noted.