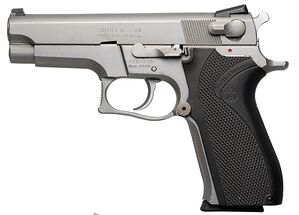 The
Smith & Wesson 5906
is a full-sized, double/single action, staggered-column magazine, 9x19mm semi-automatic pistol manufactured starting in 1989 by Smith & Wesson. The weapon's construction is all stainless steel. The firearm is chambered to fire 9mm Luger Parabellum ammunition. The firearm was factory-shipped with a magazine disconnect feature designed to deactivate the trigger if the magazine is not fully inserted. The 5906 comes standard with either a 10- or 15-round magazine.
The 5906 is Roger Murtaugh's back up weapon after his standard Smith & Wesson Model 19 revolver.
The Model 5906 makes its first appearance in Lethal Weapon 2, one of the weapon's first appearances in a film.
Murtaugh draws his weapon to aid his partner Riggs when he is under fire from African American gangsters, possibly those of Tyrone. One of the gangsters who stayed behind fires his weapon at Murtaugh, who responds by firing a few rounds through the metal shed hitting the gangster (later revealed to be Darryl Smithers).
Community content is available under
CC-BY-SA
unless otherwise noted.