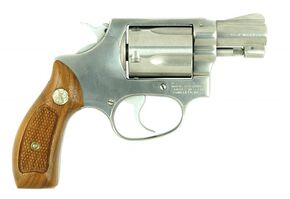 The
Smith & Wesson Model 60
is a "J-Frame" based 5-shot revolver, which is the stainless steel version of the Smith & Wesson Model 36. Though the Smith & Wesson Model 36 had nickel plated versions, only the stainless steel version is officially the Model 60. In early production, the Model 60 was chambered in .38 special only just like the Model 36. Later production models upgraded the gun, lengthened the ejector rod shroud and chambered the revolver for both .38 Special and .357 Magnum. It started production in 1965 and a variant is still in production to this day. Smith & Wesson also offered a Model 60LS "LadySmith" version in .38 special only. The Model 60 is noteworthy in that it was the first all stainless steel revolver in standard full time production. It is available in 2.125", 3" or 5" barrel lengths.
The Model 60 briefly appears in Lethal Weapon 3 as Tyrone and a henchman's weapon.
The Smith & Wesson Model 60 is shown in possession of one of Jack Travis' henchmen as Martin Riggs and Lorna Cole escape from the warehouse.
It is later seen as a snub nose version when Tyrone tries to reach for it, only to be too late when Roger Murtaugh points a machine pistol at his face.
Community content is available under
CC-BY-SA
unless otherwise noted.