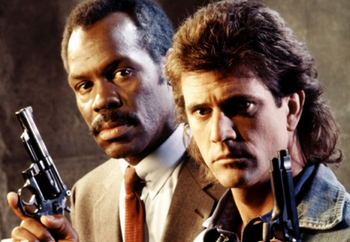 The crime fighting team of Martin Riggs and Roger Murtaugh
is the duo established in the
Los Angeles Police Department
in 1987, the year
Lethal Weapon
took place.
Epilogue: How the team was formed
Edit
Roger Murtaugh is a 50 year old African American cop who has been with the LAPD for almost 20 years; he is considering retirement. Martin Riggs is also a cop for the same department, but in another division, narcotics, and is on the edge of suicide. The day after Amanda Hunsaker's death, both cops are assigned as partners on the case after meeting each other in an unexpected way, and thus begins the partnership of Riggs & Murtaugh.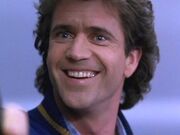 Martin Riggs was born on October 16, 1949. He was a veteran in the Vietnam war and knew Mr. Joshua and Shadow Company of the Special Forces army. He would not hear of them again until years later. After the war, Riggs married Victoria Lynn in 1973, close to when the war was about to end. Sadly, she was killed in a traffic accident in 1984, and Riggs went into depression and became suicidal. He later on over became his depression, turned away from his suicidal thoughts, and later on met and fell in love with a female cop Lorna Cole and eventually married her and had a son with her.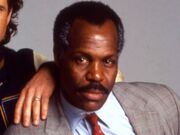 Roger Murtaugh was born on December 21, 1937. He was a veteran in the Vietnam war and struck a friendship with fellow troop Michael Hunsaker, later a member of the drug dealing cartel Shadow Company. After the war, he joined the LAPD in 1967 and married his girlfriend Trish in 1968. After serving 20 years with the force, Murtaugh was considering retirement but decided not to. He later became a grandfather when his oldest daughter Rianne had her 1st child a baby girl with her husband Sergeant Lee Butters also of LAPD.
As a team, the duo have taken on Heroin drug traders, South African Diplomats, Cop Killers led by one of their own, and a Chinese Smuggling Ring. For more information on their crime fighting career, click one of the links below:
Community content is available under
CC-BY-SA
unless otherwise noted.